Starting the day after the National Championship, SEC football fans have been anxiously awaiting the new season. Fans hope the time goes by with the blink of an eye, but that has not been the case this off season. The SEC has faced problem after problem including numerous legal issues.
Sugar Bowl champions, Ole Miss, have been in the middle of an NCAA investigation for quite some time now. The investigation has involved the University's football, track and field, and women's basketball programs.
Ole Miss has also dealt with draft night drama. Allegedly, their former left tackle, Laremy Tunsil posted a video on his twitter account of him smoking from what looked to be a marijuana bong. There was also a post on his Instagram account. It consisted of an alleged conversation with an Ole Miss staff member discussing financial assistance. Which included paying his rent, as well as his mother's electrical bill.
Following the draft, Tunsil admitted accepting payments while at the University of Mississippi. Although, he did state his social media accounts were hacked on the night of the NFL draft.Despite the drama, Tunsil was selected in the first round by the Miami Dolphins.Head Football Coach, Hugh Freeze, has stayed pretty quiet throughout the investigations.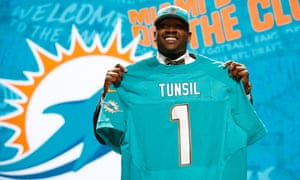 The Rebels' rival, the Crimson Tide, have also had their fair share of issues this off season. In May, star players, Cam Robinson and Laurence Jones faced drug and weapon charges while in their hometown of Monroe, Louisiana. The district attorney decided not to prosecute the pair. Whether or not there was enough evidence to prosecute or the district attorney was just being sympathetic, it is up to you to decide.
Coach Saban made the decision not to suspend Robinson or Jones. They will both be eligible to play USC in the season opener. Coach Saban's decision led to criticism. He stated, "You have to look at the whole picture. Based on the information we got and what they did, that's what we're going to do. That's my decision". Saban was also involved in an exchange with the SEC Network's Paul Finebaum on the matter.
Tennesse has been dealing with a Title IX investigation. 8 women filed sexual assault complaints against several student athletes stating Tennessee is a "hostile sexual envirnoment." According to David Brandt, The University of Tennessee settle this matter for $2.48 million.
Florida star wide receiver Antonio Callaway and former QB Treon Harris were accused of sexual assault in December. It was just this summer that the information was released to the media. The woman who accused Callaway and Harris did not file a police report. She only informed the University of Florida of the incident. Both Callaway and Harris were then suspended indefinitely. According to ESPN, the accuser is boycotting her Title IX hearing. She is boycotting the hearing due to the fact Florida appointed a football booster to adjudicate.
Harris has since then transferred from the University, while Callaway was recently cleared to attend Fall camp practices. He has not been reinstated to play in games.
Florida's biggest rival, Georgia, has not stayed clean this off season either. Since Kirby Smart took the head coaching position at Georgia, there have been eight arrests. Tight end Jeb Blazevich stated at media day, "It's embarrassing".
Defensive linemen Jonathan Ledbetter faced alcohol related charges twice this off season. Ledbetter is one of three Bulldog players that were arrested twice. Chad Clay and Chauncey Rivers were dismissed from the team.
In August of 2015 arrestnation.com released a top 23 list of the schools with the most college football player arrests. 11 SEC colleges made the list. Former national champions the Crimson Tide came in at number 12.
The SEC is arguably the best conference in all of college football, yet they continue to have off the field issues.