Despite a slow start, the Los Angeles Lakers and Lebron James cruised past the Miami Heat for a 116-98 game one win in the finals.
The Heat had an early lead after scoring on six consecutive possessions in the first six minutes of the game.
It looked like the Lakers might be in trouble.
That was not the case. Everything, but the first six minutes, was all Los Angeles.
Leading Scorers
Lakers
Los Angeles led 65-48 at the half. They had already made 11 3-pointers, and there was still a half of ball left to play.
Of the nine Lakers who played in the first two quarters, eight attempted a 3-pointer. All eight made at least one.
Lakers coach Frank Vogel has every reason to be happy with his team's offensive performance Wednesday night.
Heat
Lakers Dominate the Numbers
Miami finished behind LA in nearly every statistical category.
Field Goal %
Three-Point %
Rebounds
Turnovers
Largest Lead
Fouls
"We're much better than we showed tonight," Heat coach Erik Spoelstra said in an interview with ESPN.
Heat Injuries
Miami left the game beat up.
Goran Dragic left the court in the second quarter after tearing his plantar fascia. Center Bam Adebayo left in the third quarter after apparently frustrating a left shoulder sprain.
Butler suffered a twisted left ankle at the end of the first half. He remained in the game.
Lebron's Legacy Continues with the Lakers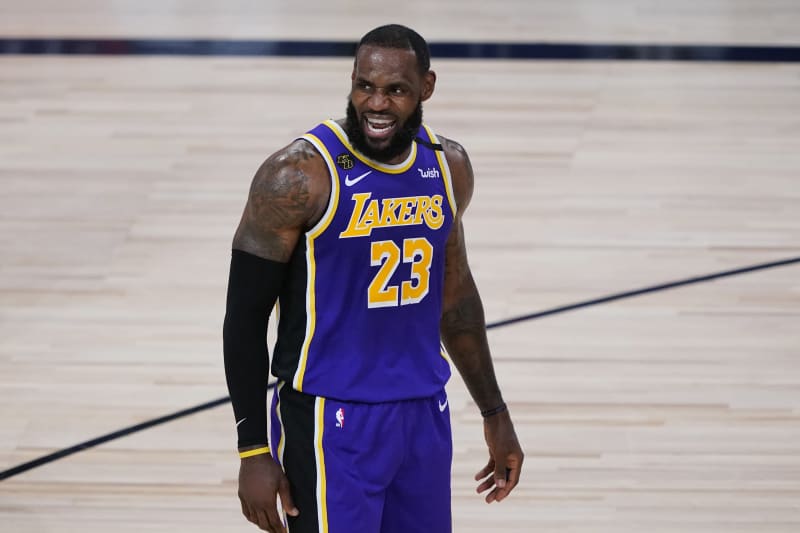 This postseason marks the tenth NBA Finals appearance for the 35-year-old Lakers superstar. James became only the second MVP to face their old team in the finals.
He made four straight finals appearances with Miami from 2011-14, winning the two in the middle.
Something to Think About
The Lakers are 62-7 in series after a game one win. The Lakers franchise has won 16 championships.
All three of Miami's championships have come after losing the opener.
The Heat claimed NBA Championships in 2006, 2012 and 2013. James was a crucial component to Miami's playoff run in both 2012 and 2013.
Game two is set for Friday at 9 p.m. ET on ABC and the ESPN app. The Lakers look to take a 2-0 series lead.